Announcing Karla Raines' Retirement
12/16/22 / Corona Insights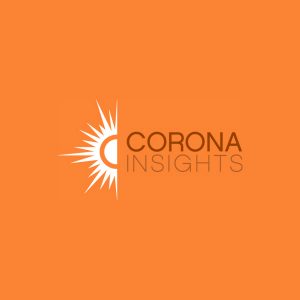 The location: the Four Seasons. The food: delicious. The attire: fashionable business. The mood: bittersweet.
In a send-off as stylish as Karla herself, we celebrated the retirement of our beloved Karla Raines with an intimate staff lunch at the Four Seasons this November. It is hard to overstate the impact Karla has had on Corona Insights, and indeed her impact on the community – in Denver and beyond.
Karla was Corona's first employee and served as Corona's CEO from 2010-2013 and 2018-2020. She was instrumental in establishing our gainsharing program, which is a hallmark of our benefits package. And she led the refresh of our company mission in 2019 to: Illuminating pathways to greater impact. Moreover, she personally shaped and mentored the next generation of leaders at Corona during her tenure.
In 2021 she published her magnum opus, Differentiated, which distills her philosophy of strategy into an easy-to-apply guide full of examples from her amazing career. Karla has worked with many different clients over the years, including the Logan School, the University of Denver, Blue Credit Union, the City of Denver, Cherokee Ranch, and many more!
As we often note in strategic planning, the process is as important as the product (the plan). While Karla has definitely created some amazing products for clients and for Corona, it is her process that will undoubtedly leave the biggest legacy at our company. Over and over again, Karla has encouraged clients and coworkers to set an audacious goal, to do a hard thing, to approach a problem from a very different direction and see how far you can take it. Not only does she encourage others to do this, but many times we have watched her do this in her own life. Whether building an entire strategy practice, traveling the world, publishing a book during a pandemic, or launching an art career, she lives fearlessly.
And when you hear about her jobs prior to Corona, you really understand that Karla was fearless from the beginning. She worked as a young waitress at a truck stop. She was the only woman on an engineering team. She worked for Tylenol during the aftermath of the drug tampering incidents of the 80s when they were trying to develop a solution. Given her work history, it's no surprise that Karla is an excellent facilitator who can guide (and wrangle!) various groups of people—parents, CEOs, academics, etc.—towards consensus
Over our many years of working with and getting to know Karla, we've collected many stories and memories. Obviously, Karla is well known for her fashion, and we have seen her rock everything from a business suit to a ballgown. Whether covered in paint or dressed in formal gala attire, she always makes a statement. Karla also is known for her celebrations, both professional and personal, formal and informal. We can think of many celebratory lunches, mini celebrations at or after work meetings, fun parties at Raines Manor, and even full company parties to commemorate successes. We will forever drink Coronatinis in her honor!
An admirer of Jim Collins, Karla, too, believes a key to success is getting the right people in the right seats on the bus. Her mentorship has been instrumental in helping each of us to find and lean into our unique strengths, and her creativity and generosity have built a company culture of growth and flexibility that offers opportunities for each of us to shine. Many of us have fond memories of check-in meetings in her office in the Spectrum Building, where Karla, with legal pad in hand put a shrewd eye to what you were best at and most excited about and then pushed you to take that one step further. It has made each of our careers more personally fulfilling and more joyful.
As someone who spent decades identifying audacious goals for coworkers and clients, you won't be surprised to hear that she has many activities already lined up in retirement. Whether creating art, experimenting with new delicious dishes, traveling, reading, or doing yoga, Karla will definitely keep busy. She even may be available for contract work for select clients. And while we are definitely sad to see the end of Karla's time with Corona, we are trying to embrace our inner fearless Karla. While change is often challenging, Karla has shown us many times that change can be a great opportunity if we are willing to embrace it. And we should definitely throw a great party to celebrate! Congratulations, Karla!!