Ginny Sawyer: Community Builder and Problem Solver
10/28/19 / Matt Bruce
I recently met with Ginny Sawyer, Project and Policy Manager with the City of Fort Collins, to discuss the long view of Corona's involvement in three city-wide housing studies.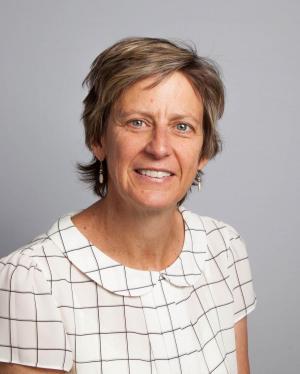 Two words that describe Ginny Sawyer's career so far are problems and solving. In her 19-years serving the citizens of Fort Collins as a City employee, Ginny has worked on solving an interesting array of issues including nuisance codes, retail marijuana, tax initiatives, and short-term rental housing, just to name a few. Ginny recognizes that these issues are complex, but also understands that they can be deeply personal and have a major impact on residents' quality of life. Therefore, she takes a human-centered approach by seeking resident voices and sincerely working with stakeholders to find broad and lasting solutions.
Ginny started her career with the City of Fort Collins in the Neighborhood Services Department. In that position she engaged with residents and stakeholders throughout the city to listen and learn about their experiences and concerns. Beyond listening, she worked on projects that built stronger communities, including planning local celebrations, building neighborhood assets, and helping foster community pride. After 12 years working in the Neighborhood Services Department, Ginny transitioned to the City Manager's Office as a Project and Policy Manager.
Ginny's experience working with neighborhoods across the city put her in a great position to participate on a neighborhood quality task force from 2003-2005. Supported by lots of community outreach, this task force put forward initiatives to preserve neighborhood quality, such as creating a public nuisance ordinance to help reduce the number of persistent problem properties and to reduce property damage. Additionally, the task force suggested decriminalizing a long-standing ordinance that restricted the number of unrelated people who could live together in a home. Decriminalizing the ordinance would make it easier to enforce. The occupancy ordinance was a contentious issue that elicited a range of strong opinions, and it was a struggle to facilitate productive discussions. Ginny noted that stakeholders were bringing a wide variety of antidotal observations, which are challenging to translate into policy. The task force soon realized they needed a clear set of facts to help move the dialogue forward. This is when the City reached out to Corona Insights to conduct a housing study. "Hiring Corona was key to producing a trusted and neutral 3rd party source of facts," said Ginny.
To produce this neutral battery of fact, Corona explored the issues through a variety of data sources and methods, with the goal of understanding the impacts on rental housing that stronger enforcement would create. A critical first step was developing an estimate of how many households were in violation of the ordinance, and Corona used several methods of doing so to centralize on a reliable estimate, including surveys and various types of demographic analysis. Once this was accomplished, Corona built a housing impact model to estimate how the rental market would change if these "violator households" were shifted and re-formed into smaller households that did not violate the ordinance. The results were used to estimate the impacts in three realms: rental market demand and impacts on landlords, rental costs and impacts on rental households, and neighborhood effects. The study also placed Fort Collins' rental market into a greater statewide and national perspective with comparisons of market dynamics in Fort Collins to similar markets elsewhere.
Two years after Corona's completed the first Fort Collins Occupancy Study, the City implemented the newly de-criminalized occupancy ordinance, with a plan to conduct a follow up study two years later to measure the outcomes of the ordinance and understand residents' opinions of it. "Again, we needed a neutral 3rd party source of facts to ensure continued productive dialogue among all stakeholders," said Ginny. Corona Insights was hired to follow up with an analysis that examined how the ordinance had changed the rental market and how renters and landlords navigated within the market.
By 2016, various housing stakeholders, such as the Fort Collins Board of Realtors and the Associated Students of Colorado State University, began wondering how the occupancy ordinance was influencing the current rental situation. City leaders understood the complexity of the housing situation, and they wanted to make smart decisions informed by data and discussion. In 2018, the City hired Corona for a third time to holistically study the rental housing market. Corona executed a variety of research tasks and phases to better understand the complexity of this market. First, we compared rental market trends in Fort Collins to other similar cities in Colorado and beyond. Second, Corona analyzed existing demographic data to update the number of households violating the ordinance and to understand their household makeup. Third, we conducted a statistically valid survey of all Fort Collins residents to measure neighborhood quality and gauge sentiment of the occupancy ordinance. We also explored the newly developed short-term rental market to examine its influence on the long-term rental market. Lastly, we brought all of these elements together to tell the story of the Fort Collins rental market over time.
Ginny found that Corona's research report clearly communicated a compelling story of how the rental market has been shaped based on numerous forces over the past decade. She wasn't surprised by many of our findings, but there were some aha moments: seeing how the stock of rental housing had not kept up with population growth, how the short-term rental market had a small but not negligible effect on the broader rental market, how the profile of ordinance violator households had changed to include more families and fewer students, and how residents' opinions of the ordinance remain mixed. "The report made a compelling case that Fort Collins is facing a housing stock shortage, which is likely a much bigger problem than the occupancy ordinance," said Ginny, who added "We were also surprised to see how the profile of occupancy violating households had broadened to include more families and older adults." This was a key point of discussion among City leaders during their discussion of the research report.
Ginny is hopeful that City Council will be able to move forward with some tweaks to the occupancy ordinance, such as possibly letting older homeowners rent rooms to more than one unrelated person. Ginny said "This change would allow an older adult who might be short on income to make a bit more money. Plus, it would better utilize our housing stock, so the benefits of that change would be wide-reaching." Finding these broad solutions to complex problems is what Ginny's been doing in Fort Collins for almost two decades, and Corona is proud to have played a part in supporting her work.
---
Throughout 2019, to help celebrate our 20th Anniversary, we are profiling our staff and select clients. Click here to view all of our interviews.
To stay up to date on all Corona news, and receive useful insights in the world of research, evaluation, and strategy, subscribe to our newsletter.