Staff Interview: Jamie Blair
8/15/19 / Matt Herndon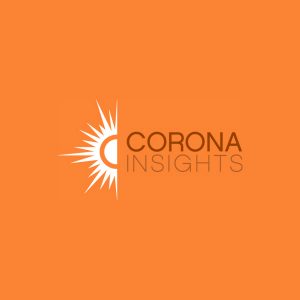 This entry in our blog series is submitted with a bit of sadness, as Jamie Blair, our office coordinator for the past two years, will be moving to Hawaii in October, and therefore will be moving on from the Corona team. Even so, we like to think of the Corona alumni network like distant members of the family, so her departure is no reason not to learn a bit more about her anyway!
Jamie (who tends to prefer the simpler "Jam") came to Corona on Halloween of 2017. I wanted to make some clever joke here about that somehow foreshadowing her time at Corona, but to the contrary, her time at Corona has been a delight for all of us. Jam came to us with a background in bookkeeping and social work, making her a perfect fit to run "Mission Control" here in the office as someone who understands our passion for working with purpose-driven organizations.
At Corona
Jam came to Corona through a recruiting agency, so compared to most of our staff, she knew relatively little about Corona prior to joining us. However, she quickly became a beloved member of the team. "Everyone seemed like cool cats, and I liked the space," she said when asked about her first impressions. She enjoyed the "quirkiness" of our staff and valued her interactions with people who she described as "intelligent, charming, and kind."
Our Office Coordinator is naturally in a role where much of their time is spent working independently, making sure that all of our accounting is up to date, that our invoices get sent, and that our staff get paid. But shortly after Jam joined our team, it became apparent that her talents went far beyond these tasks. With a bachelor's degree in English, Jam often assists by copyediting our reports, blog posts, and other deliverables for clients in order to ensure everything is as clean as possible. (In fact, she probably copyedited this blog. Hi, Jam!)
One of Jam's greatest strengths is her strong desire for efficiency. When she came on board, she quickly audited our recordkeeping practices and identified areas where we were being a bit… conservative… with the files we were keeping around. A short time later she led an effort to simplify our accounting processes to make things easier to maintain and clearer to interpret. "I like when things run smoothly," Jam told me. "I'm the kind of person who will figure out how to do a task with the least number of keystrokes possible. It makes me feel a sense of relief when things go from being chaotic to running smoothly." Similarly, she found ways to create spreadsheets to drastically reduce the amount of time required to do key calculations, such as use tax preparation. In fact, she describes working with Excel as one of her favorite tasks. "When you make a spreadsheet with nested functions and a lot going on, and it's really complicated, and you test run it, and everything works perfectly—you know that feeling? I love that feeling."
While Jam does occasionally help with projects here and there, her favorite part of Corona's work is the way she can see evidence of our work in the community. "I'll go out in the community sometimes and see something Corona has worked on. It makes me feel connected to the community through Corona."
Outside of Work
Jam is a talented artist, so when she's not staring at QuickBooks, she often writes poetry or travels to art events to paint custom art pieces for attendees. She has a particular love of painting animals and enjoys creating "pet portraits" that capture a beloved pet in a fun and unique way. While she is skilled at creating digital art (and has even created a few pieces for Corona's projects, such as the sheep above), perhaps her greatest love is painting with watercolors. She especially enjoys painting en plein air (in nature), though she admits she hasn't been able to do so as often lately as she'd like.
One of Jam's other passions is bicycling. She often rides her bike to work (and it's a long ride—15.5 miles each way) or anywhere else she possibly can. "I like biking because, when you're going at a really good clip on a good road or trail, it's the closest thing you can get to flying under your own power. I like seeing the countryside at a human pace. And biking is more human than road-tripping in a car, but you can see more than when you're just walking." She especially loves taking trips where she rides for most of a day, then camps overnight, then repeats for weeks. "The kids call it 'bikepacking' now." (Author's note: hearing a comment like that from that from someone considerably younger than me makes me feel old. [Copyeditor's note: you're not that much older than I am…!])
Charitable Organization
Jam selected Bikes Together as the recipient of Corona's $500 donation this month. As both a client of the organization's "Fix Your Bike" program and a volunteer, Jam has seen the impact that the organization has on the community. We'll learn more about Bikes Together in an upcoming blog.
---
We will miss Jam as she moves on to her next opportunity, but we will always value the time she spent with our team. So, join us in wishing Jam good luck if you receive an invoice from us in the next month. And if you happen to know someone who is looking for a part-time bookkeeping gig, feel free to drop us a line!
---
Throughout 2019, to help celebrate our 20th Anniversary, we are profiling our staff and select clients. Corona is also donating $500 on behalf of each staff person to a charitable organization of their choice. Click here to view all of our interviews.
To stay up to date on all Corona news, and receive useful insights into the world of research, evaluation, and strategy, subscribe to our newsletter.