Colorado Population 2040: 4 Trends to Watch
9/24/19 / Andrew Streight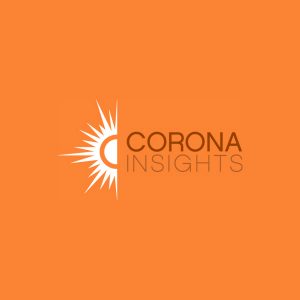 As we celebrate our 20th anniversary of impactful work for purpose-driven organizations in Colorado, we look towards the future by envisioning what the state of Colorado will look like in 20 years. Building on the thinking, research, and analysis we've conducted through our work with organizations like the Children's Museum of Denver at Marsico Campus for their 2030 master planning process and utilizing data and projections from the Colorado State Demography Office, check out 4 key trends to note for the future population of our state.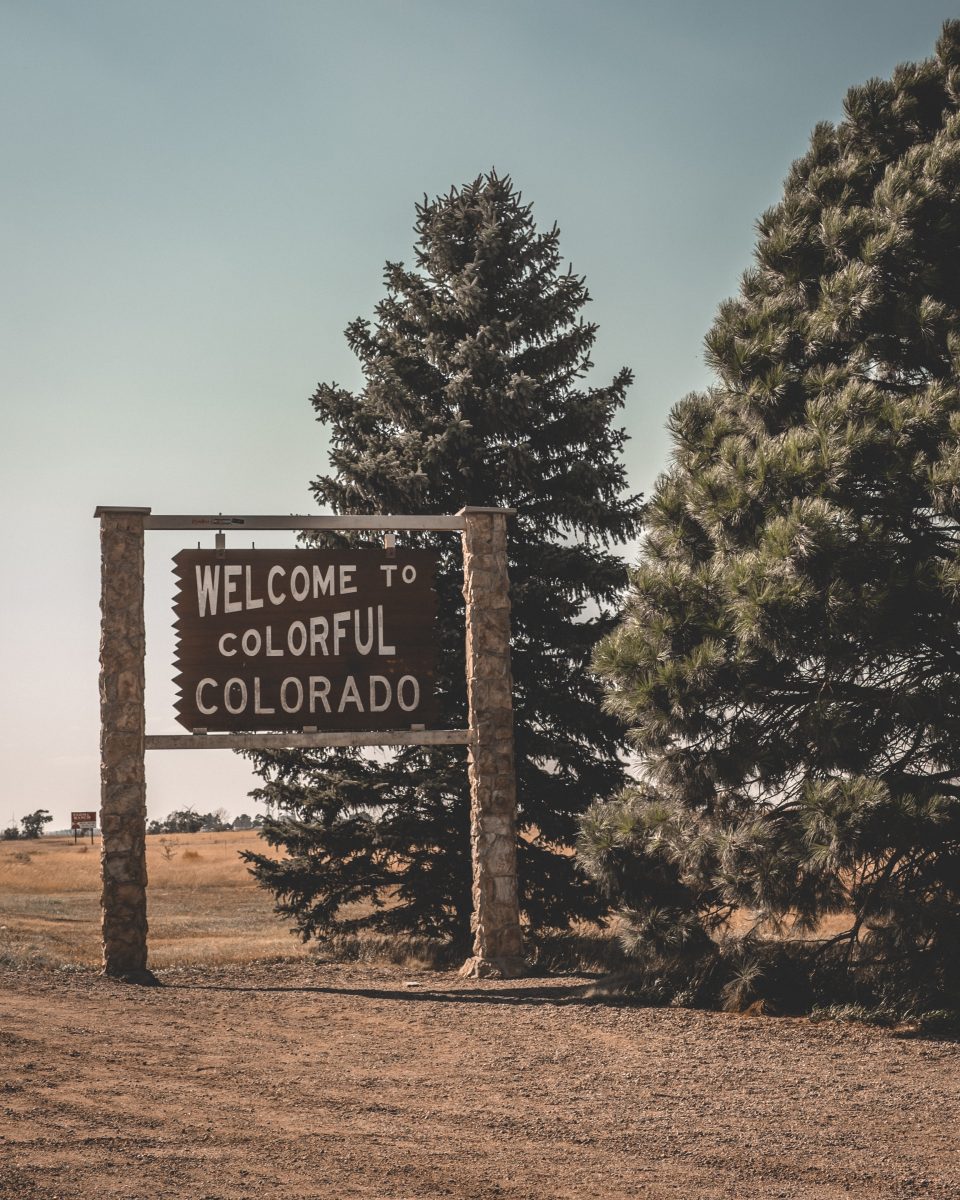 1. Growing
Between 2019 and 2040, the Colorado population is expected to grow by roughly 30%, increasing from ~5.77 million in 2019 to ~7.52 million in 2040. Compared to the projected national growth rate of 13%, Colorado's population is expected to increase significantly faster than the country as a whole.
The factor driving much of the change in Colorado's population, according to the State Demography Office, is migration, as "Each year between 2011 and 2016 between 235,000 and 250,000 people moved into Colorado, and between 160,000 and 196,000 people moved out of Colorado."
Zooming into the 7-county metro area, the population is projected to grow from nearly 3 million people in 2019 to 4.3 million in 2040. As will be noted in the next trend, much of the population growth in the metro area will occur in the counties of Arapahoe, Adams, and Denver.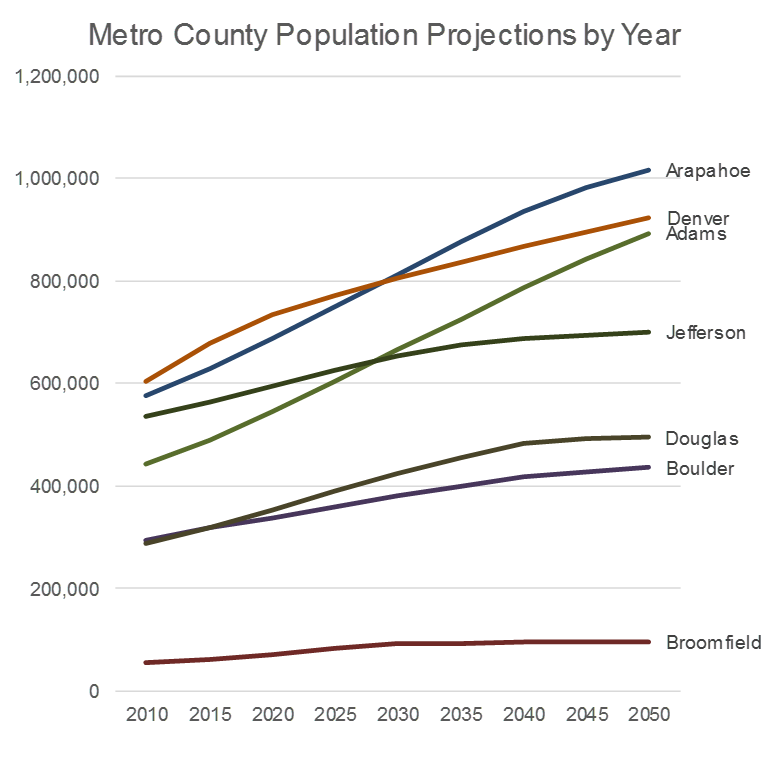 2. Dispersing
While growth is still expected to occur within Denver County, much of the growth in the 7-county metro area is projected outside of the county with the state's capitol. With rising housing costs, increasing traffic, and a steep cost of living in Denver, the idea that people might try to build lives in counties outside of Denver is not shocking. The Aerotropolis may also contribute to growth in the eastern counties of the metro area. On a state-level, many of the counties that one would expect to grow as current population centers in Colorado will, in fact, grow significantly. Counties such as Boulder, Denver, Larimer, and El Paso are expected to add at least another 50,000 residents between 2019 and 2040.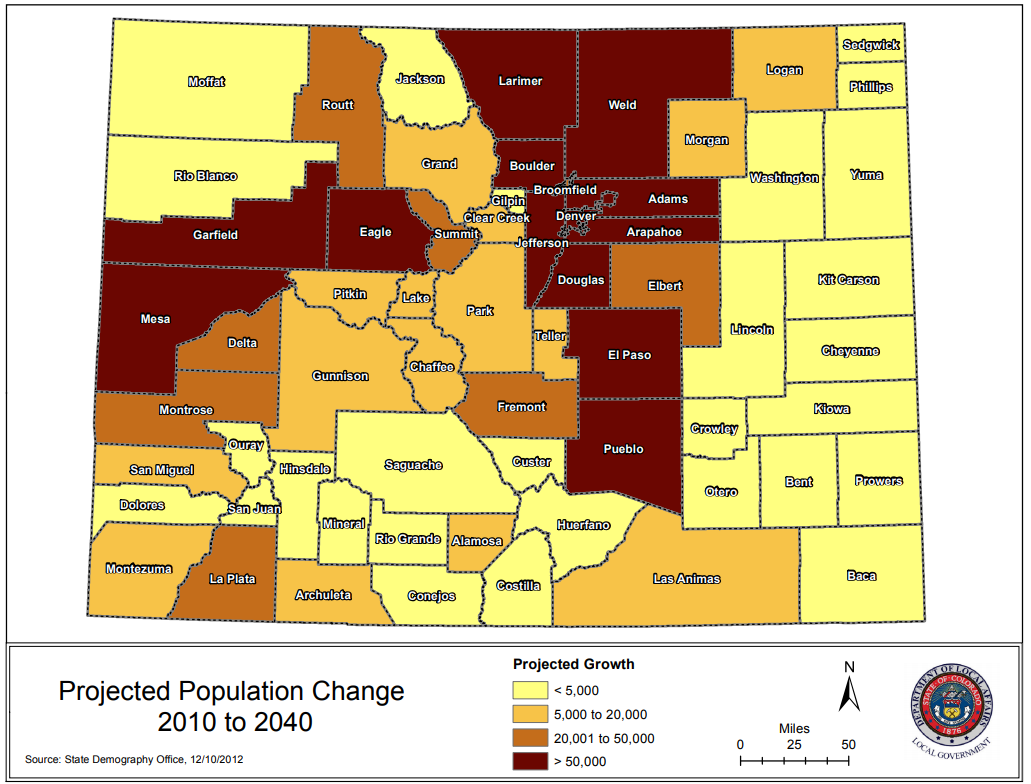 In terms of percentage growth between 2019 and 2040, however, the picture is a bit different, as counties like Garfield (45% growth) are expected to see a drastic increase while others, such as Las Animas, are expected to decrease in the same time frame. The top 4 counties in terms of percentage growth between 2019 and 2040 are:
Weld (79%)
Elbert (63%)
San Miguel (55%)
Archuleta (48%)
Conversely, the 4 counties expected to decrease the most in population between now and 2040 are:
Baca (-15%)
Kiowa (-12%)
Otero (-9%)
Huerfano (-7%)
3. Aging
In line with national projections, the age distribution of Colorado's population will change in coming years to reflect a larger share of those over age 65. While Colorado was the 4th youngest state in 2010, we are already nearly in line with the age distribution of the national population. In 2040, this means roughly half of the Colorado population will not participate in the labor force.
For comparison, in 2019, those aged 0-19 make up ~25% of the Colorado population and those aged 80-95+ make up ~3% of the Colorado population. While the 0-19 age group is expected to decline by 3% in terms of population share by 2040, the older 80-95+ age group is supposed to double by 3% to reach 6% of the population by 2040.
4. Diversifying
Also in line with national population projections, Colorado's population is expected to increase in racial and ethnic diversity between 2019 and 2040. The "White, non-Hispanic" population is projected to decrease from an estimated 66.9% of the population in 2020 to 58.5% by 2040. Conversely, those identifying as "Hispanic Origin" will grow, in terms of overall population share, the most between 2020 and 2040, from 23.9% to 30.5%. The second fastest growing group will be those identifying as "Asian/Pacific Islander, non-Hispanic," as you can see below.
Overall, the "Minority" population share is projected grow by 8.2% between 2020 and 2040, from 33.1% to 41.5%.
2 responses to "Colorado Population 2040: 4 Trends to Watch"