The continually evolving Denver International Airport
4/18/19 / Kevin Raines
If you've ever seen the giant wall of travel magnets at Corona Insights, you'll know that we like to travel. And because we like to travel, we spend a lot of time in airports, particularly at Denver International Airport (DEN).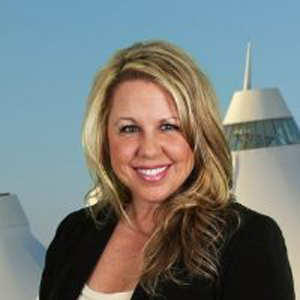 We like to spend time at DEN. It's a fun place to hang out, get some food, explore alien portals, and people watch. A big factor in our enjoyment is the work of this month's client interviewee, Stacey Stegman. Stacey is the Sr. Vice President of Communication, Marketing, and Customer Service of DEN, which is both a formidable job and a formidable business card. As one of her many duties at DEN, she oversees the customer experience at the airport.
Our research work at DEN is one of her many tools to do this. Over the years, we've helped DEN research everything from parking to bathrooms. We've conducted thousands of surveys of passengers at DEN to track satisfaction and elements of the passenger journey, and recently we've conducted research assist in the Great Hall project. We're very proud of our contributions, and we sat down with Stacey to talk about the airport and our work.
Keeping Up With Change At DEN
We were first curious about the forces that propel changes to the customer experience. Ensuring a pleasant visit to DEN requires a constantly evolving suite of services, according to Stacey.
New aircraft are enabling new city pairs
"The recent introduction of the new 787 Dreamliner is a good example of this, as it opened up new route opportunities for DEN. The aircraft is a great fit for Denver's market characteristics, which has allowed new international routes to begin service. More international routes means more international passengers, both inbound and outbound, which presents new customer wants and needs.
Getting to and from the airport is changing
"A second major change to the customer experience is parking and transportation. DEN was designed in the days before the A Train and before the phenomenon of ride sharing. Changes in the way that people travel to and from the airport have led to numerous adaptations of the DEN philosophy toward parking and transportation, and how to meet modern needs.
Technology is shifting what's possible
"A third major area is security. As technology evolves, such as biometrics and facial recognition, DEN is constantly striving to improve the experience. This applies to both passenger experiences and baggage handling, and includes both active and passive security systems." Look for enhancements to DEN's security screening with the Great Hall project.
"And finally, we have the customer experience. What services are needed? How does DEN prioritize various aspects of the customer experience for improvement? The advent of handheld devices has revolutionized the passenger experience in everything from wayfinding to getting food."
So…wow. In short, DEN is a constantly changing place in a constantly changing environment. It's important to keep up with societal shifts and stay ahead of them. DEN is certainly doing that well, given their recent accolades as the best large airport in America.
DEN's Relationship With Corona Insights
Stacey and Corona have been partners for years. We first met Stacey when she was running the public relations functions for the Colorado Department of Transportation, and we were conducting advertising evaluations and other planning research. According to Stacey, Corona's role there was often ensuring the value of investments in traffic safety. "[Corona's work] allowed us to demonstrate to our stakeholders and to our lawmakers how we were investing money and were making a difference."
Our role supporting Stacey's work at DEN is used somewhat differently. In the aviation world, we help determine that investments are making a difference in order to inform decision making. We asked Stacey to describe the outcomes of our work, and she offered, "Affirmations. Affirmation that we're going in the right direction. Notification that we should shift gears a little bit. We've changed investments if Corona told us it won't shift direction or if other investments have more power to do so."
In describing her experience working with Corona Insights, she offered:
Reliable – "You're always open to ideas.  You listen to us and what we're trying to accomplish."
Knowledgeable – "You're good people who are experts in the field."
Local – "Local matters to our airport and we value investing in our community."
In closing, Stacey remarked that "You all have been one of the first firms I've worked with in this [research] world and I keep coming back to you. You have taught me about research."
It's been a true delight to work with Stacey for the past 15 years or so, and we're delighted to see her team steering our beloved airport to greatness. When you breeze through security or order food delivery to your gate or plug into a charging station, thank Stacey for her diligence in understanding the customer experience. And look around, because there's probably a Corona Insights person nearby, heading off to collect another travel magnet.
---
Throughout 2019, to help celebrate our 20th Anniversary, we are profiling our staff and select clients. Click here to view all of our interviews.
To stay up to date on all Corona news, and receive useful insights in the world of research, evaluation, and strategy, subscribe to our newsletter.